Products with history
Studio Laura Straßer was founded in 2009 as a studio for product design with focus on porcelain and ceramic designs. Since then the Studio worked on numerous projects and products, which were continuously presented on international shows and fairs.
As an expert for white gold the Studio develops and designs porcelain and ceramic products for clients and partners with consideration of the specific material involved. Despite international clients the Studio continues collaborations with local manufacturers in Thuringia. Local production is a basic necessity because it provides proximity and
access to an excellent learning environment. In addition, the collaboration with local manufacturer experts helps innovative product development and reinforcement of regional and European porcelain manufacturing.

Besides Studio Laura Straßer, Laura Straßer is also part of the design label frenchknicker, founded in 2006 with here colleague Milia Seyppel, under which pseudonym both designer distribute and exhibit their common works.
Fagile Affairs
Porcelain is a wonderfully sensual material. Porcelain's sensuality, its character and its long history form the focal point of my work. I try to give all my works a (hi)story to take with them on their way.
In production today, (hi)stories offer location. In an era of superfluity and over-production, when everything seems to be available and infinitely replaceable, I do not wish to design another product that has neither a (hi)story nor a soul. Porcelain has always been purchased, among other things, out of a love of the product, and I would also like to create items for porcelain lovers that offer the user or owner the possibility of associating (hi)stories with them and letting them become favourite items which he or she aims to keep for a lifetime.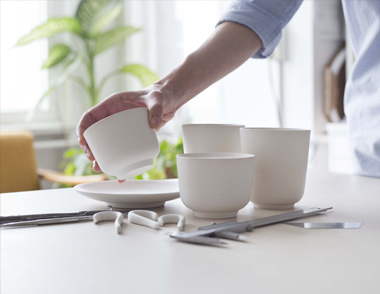 Helping ands
Thanks to our interns:
Susann Paduch // Intern Novembre 2015 – March 2016
Maiella Di Donato // Intern April 2018 – July 2018
Apply on:
info@laura-strasser.de